The Treasure Seekers
Theatrical Release:
March 17, 2000
DVD Release:
March 17, 2000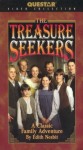 Synopsis
In a classic story by Edith Nesbit, one of England's most beloved authors, five motherless children struggle to save their inventor father from financial ruin. Their well-meaning efforts invariably end in disaster despite the watchful eye of their neighbor, a dashing explorer (James Wilby). Richard Bastable (Nicholas Farrell), the father, has only a few days to save the family home as creditors increase their demands while he struggles with his difficult yet promising invention. In spite of the family's gallant efforts and the sympathy and help of Dr. Mary Leslie (Gina McKee), the end looms nigh.
Parts one and two, each video approximately 44 minutes.