The Audrey Hepburn Story
Network Premier:
March 27, 2000
DVD Release:
July 11, 2000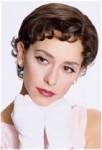 Synopsis
ABC brings the Cinderella life of the beloved Oscar-winning actress to television Monday, 3/27/00 (8:00-11:00 p.m., ET/PT). The affectionate portrait dramatizes Audrey's life, from her traumatic childhood during the Nazi occupation of Holland to her celebrated status as an international film star. Tracing her career from her first days on the London stage to her surprising triumph on Broadway in "Gigi," Audrey proceeds to take Hollywood by storm in a succession of some of the most endearing films of all time.
Simultaneous with her burgeoning film career, Ms. Hepburn also set a new ideal of elegance, style and grace with the help of her long-time friend, the designer Givenchy, who created her inimitable, impeccable, and oft-imitated look, which was simplicity at its best.
Audrey finds love and marriage with Mel Ferrer (Eric McCormack), the actor and producer who was instrumental in guiding Audrey's career. With his help, Audrey made important films such as "The Nun's Story," a film project that led to her tireless work with UNICEF.
Dove Review
Hollywood has often attempted to bring the off-screen lives of its greatest movie stars to audiences via dramatic made-for-TV movies. Although these films usually garner ratings, they seldom capture the essence of the phenomenon they are depicting. This production, however, comes close to capturing the qualities that made Audrey Hepburn famous. Now, don't get too excited. Just as talent scouts will never find another John Wayne or Cary Grant, there will never be another Audrey Hepburn. But little Jennifer Love Hewitt is charming, a gifted presence in her own right. What's more, she can act! She's still very young, and needs time to season, but Ms. Love Hewitt radiates and entertains. This film reminds us of the fantastic movies Audrey Hepburn was associated with, and it successfully dramatizes the background of this genuine star. Although the film claims Audrey was having an affair with married William Holden, it contains no gratuitous sex or profane language. This is one autobiographical film that is nearly as elegant as its subject.
Info
Producer:
Steve Robman and Kay Hoffman
Industry Rating:
Not Rated
Reviewer:
Phil Boatwright