Price of Glory
Theatrical Release:
March 31, 2000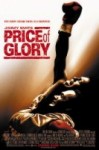 Synopsis
Arturo Ortega (Jimmy Smits), a Hispanic ex-boxer, is now a proud patriarch with three sons. They are a macho bunch that eats, drinks and sleeps the sport of boxing. Seeing his own career cut short when he was brutalized by a superior boxer years before, Arturo dreams of seeing one of his sons become a contender. Indeed, he lives vicariously through his boys.
A proud man with a fierce temper, Arturo insists on managing his sons in the ring. This determination causes friction between him and his family. He loves his boys, but also dominates them, expressing his fatherly passion through strictness. But he is not the only one with a strong will. Friction develops and causes a separation between Arturo and his two eldest sons, while Johnny (Ernesto Hernandez), his youngest, shows real promise in the ring. But ruthless promoters want to manage Johnny's career, leaving Arturo on the outside.
Dove Review
The '90s were especially frustrating for this reviewer. Never before had so many films been made presenting different cultures, yet there were few I could recommend. While many of those movies had good storylines and positive messages, most also embraced objectionable content. So far, the year 2000 fares no better. Although "Price of Glory" showcases the Hispanic community and contains strong family values, like most films coming from Hollywood these days, it also includes several irreverent uses of both God's name and Christ's. Their names have become mere exclamations for screenwriters and actors. Though we are not the movie police and we won't "ticket" you for seeing a film we do not recommend. However, we do want to make this a site you can trust. It is our goal to recommend uplifting films for your family, films that teach, entertain, or edify. That means we must draw the line somewhere. Indeed, the line is drawn. We will not recommend a film that profanes God's name.
Info
Company:
New Line/Fine Line
Reviewer:
Phil Boatwright