Black and White
Theatrical Release:
April 5, 2000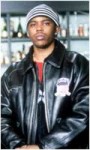 Synopsis
Documentary filmmaker Sam Donager (Brooke Shields) and her bisexual husband (Robert Downey Jr.) study the lives of a group of well-off white kids who, intrigued with a hip-hop singer's lifestyle, have taken on the lifestyle of urban blacks. Their idol is Rich Bower (Oli "Power" Grant), a convert from a life of crime who has re-invented himself as a rap performer. Bower's lifestyle includes partying with celebrities and famous athletes, including Mike Tyson. The musician is fascinating to many, but he has his enemies as well. NYPD detective Mark Clear (Ben Stiller), for example. The cop attempts to trap Bower by blackmailing his childhood friend, Dean (Allen Houston), a popular college basketball player. When Dean's malevolent girlfriend (Claudia Schieffer) tells Rich about the sting, she sets in motion a chain of events that will affect the lives of the entire ensemble.
Dove Review
After 150 uses of one particular swear word, I lost count. Indeed, I can't remember a film that contained more obscene or crude language. Mix the filthy dialogue with lots of cynical, hostile attitudes from most of the characters, a rap score made up mostly of objectionable and disrespectful words, and you have "Black and White."
Driven by a pulsing soundtrack and populated with an eclectic cast, "Black and White" is a comedic look at race, sex and hip-hop in Manhattan at the turn of the 21st century. Well, so the press notes say. If there is a message, it will most likely be lost on those who wish to shut out what they are hearing.
I prefer the music, comedy and poignancy of "Cotton Patch Gospel," which places the Gospel of Matthew in modern times – with Jesus being born in Gainesville, Georgia.
Info
Company:
Sony/Screen Gems
Reviewer:
Phil Boatwright