Cupid and Cate
Theatrical Release:
May 7, 2000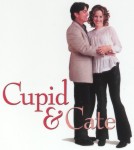 Synopsis
Hallmark Hall of Fame's 205th presentation premieres 5/7/00, 9-11 p.m. ET/PT on CBS.
Cate De Angelo (Mary-Louise Parker) has three accomplished sisters and an irascible father (Philip Bosco) who think she's just drifting through life. Cate's perfectly content with her no-surprises existence. Her relationship with her fiancé, for example, is comfortable and convenient (if passion-free). That changes dramatically when one of her sisters plays Cupid and introduces Cate to Harry (Peter Gallagher), a witty and handsome man. Harry brings joy, adventure, and spontaneity to Cate's heretofore humdrum existence. But how will her family react when they discover that fiancé number one is out and number two has a terrible secret?
This film deals with a dysfunctional relationship between a father and daughter. A wall has developed between them over the years, beginning when Cate was a young girl and could hear her father constantly yelling at her alcoholic mother. What seemed abusive, was in reality, frustration for a man devoted to his wife, yet unable to help her with her sickness.
Dove Review
Very often I see films that start out with so much promise, but then completely fall apart, becoming either nonsensical or tedious. It is a common complaint among reviewers. But just the reverse can be said for "Cupid and Cate." The first 30 minutes (40, with commercials) bored me. I couldn't find anything to like about the lead character or her family. Suddenly, life is breathed into the script as we realize how complex the characters really are (well, complex for television). The father who seems verbally abusive begins to flesh out. He's dimensional; he's not just argumentative. He also has a compassionate side. The sisters also reveal their depth, and the characters become people you would like to know. Hallmark Hall of Fame comes through again. "Cupid and Cate" is enjoyable, well acted and perceptive. Just hang in there, it's worth wading through the first half hour.
Info
Company:
Hallmark Home Entertainment
Writer:
Jennifer Miller and Ron Raley
Reviewer:
Phil Boatwright