Love and Basketball
Theatrical Release:
April 21, 2000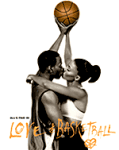 Synopsis
Monica (Sanaa Lathan) and Quincy (Omar Epps) have lived next door to each other since childhood. They have one thing in common – both are basketball enthusiasts. They eat, breath and sleep the game. And both are very good players. The film follows their lives as they face difficulties and romance.
Dove Review
"Love and Basketball" is a perceptive look at the struggle between men and woman wishing to find romance, yet so involved in their personal goals that they are unwilling to compromise for each other. The sexual activity and profane language make it impossible for me to recommend for family viewing.
Content Description
Language: GD 3, F-word 1, S-word 10, ass 5, bitch 1, expletives 20, several slang terms referring to sex and body parts - Sex: 1 sexual situation between the leads; we overhear sex between a man and wife; many sexual references; suggestive dancing at a party; Nudity: brief male rear end – Drinking: people drinking in a bar 2, college students drink at a party; the lead gets tipsy at that party – Violence: a boy pushes a girl twice; a woman slaps her bratty daughter.
Info
Company:
New Line/Fine Line
Reviewer:
Phil Boatwright