Bloodhounds, Inc.: The Ghost of KRZY
Theatrical Release:
May 4, 2000
DVD Release:
September 15, 2003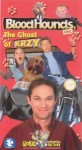 Synopsis
What is that eerie glow inside radio station KRZY during the middle of the night? Why is equipment mysteriously vanishing? And what about those strange voices – human, but not quite? Sean and Melissa Hunter decide to start a kid's detective agency using their noble but sometimes frustrating bloodhound, Slobs. Their first case is to find out what that mysterious glow and strange non-human voice is coming from their father's radio station late at night. Meanwhile, the neighborhood bungling bullies are busy trying to trap Doc, the mysterious woman scientist whose strange inventions always backfire with hilarious results. The two stories finally come together in Doc's spooky and comically booby-trapped house when they discover her strangest invention yet, J.E.R.E.M.I.A.H. – a loopy and somewhat out of touch computer-generated character who can hop about on computer screens, TV sets, and digital watches. Together, the five of them – Sean, Melissa, Slobs, Doc and J.E.R.E.M.I.A.H. – form the strangest detective agency ever…Bloodhounds, Inc.
So begins the hilarious and action-filled case for kid detectives Sean and Melissa Hunter and their pet bloodhound, Slobs, as they set out to discover the mystery behind the spooky station…while at the same time learning how perfect love casts out all fear.