Veggie Tales: Where is God When Im Scared?
Theatrical Release:
January 1, 1998
DVD Release:
January 1, 1998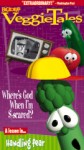 Synopsis
Tales from the Crisper – What happens when 5-year-old Junior Asparagus watches a Frankencelery movie that's a little too scary for him? Bob the Tomato and Larry the Cucumber come to the rescue with a rollicking song, teaching Junior that God is bigger than anything he might be afraid of.
Daniel and the Lion's Den – The second segment takes us to ancient Babylon as the VeggieTales® characters stage a musical adaptation of a classic Bible story. Larry the Cucumber, playing the role of Daniel, finds himself in deep trouble thanks to the King's conniving wisemen, played with zest by a trio of slippery scallions. In the end, Daniel learns that even in the lion's den, he is still in God's hands.