Veggie Tales: The Toy that Saved Christmas
Theatrical Release:
October 6, 1998
DVD Release:
October 6, 1998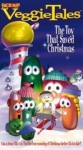 Synopsis
"You want a toy that's fun! You want a toy that's cute! You want Buzz-Saw Louie!"
Mr. Nezzer is back! As the owner of the Nezzer Toy Factory, his TV commercials have convinced all of Dinkletown that "Christmas is when you get stuff!" With the children of Dinkletown whining and begging for more toys, it's sure to be the worst Christmas ever…until one brave little Buzz-Saw Louie doll decides to take matters into his own hands! But how can Louie find the true meaning of Christmas when he can barely find his way out of the toy factory? And what if Mr. Nezzer finds him first?
"The Toy that Saved Christmas" teaches children that "Christmas isn't about getting, it's about giving. And it's especially about a little baby named Jesus, who was the greatest gift of all!"