Veggie Tales: King George and the Ducky
Theatrical Release:
April 14, 2000
DVD Release:
April 14, 2000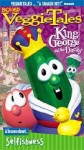 Synopsis
Once upon a time there lived a king. Like other kings, he had a really neat castle and a lovely little kingdom. But unlike other kings, King George spent most of his time…in the bathtub! Why? Because that's where he'd play with his favorite toy: his rubber ducky. But one ducky wasn't enough for King George. He wanted all the duckies!
Discover what happens when this cucumber king makes a huge mistake, deciding that the most important person in the world is, well…himself! Can he learn to put others first before it's too late?
Join Bob the Tomato, Larry the Cucumber, and the whole Veggie Tales gang as they learn that when we are selfish, we hurt the people around us. "For whether you're a king or a kid, God wants us all to think of others first!" Don't miss all the fun in "King George and the Ducky!"