Adventures in Odyssey: Electric Christmas
Theatrical Release:
January 1, 1994
DVD Release:
January 1, 1994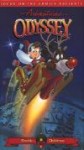 Synopsis
Dylan and Jessie Taylor have gone to downtown Odyssey to shop for Christmas presents. As Dylan is complaining about the greed and commercialism that is taking over Christmas, he brushes off a small boy who is selling something to raise money for camp. Jessie shows Dylan the cordless razor she wants to buy for their dad, but Dylan is struck by the sight of an XR-7 limited edition speedster bicycle. Later, at Whit's End, Dylan draws the name of Matt Williams in the Angel Tree drawing and agrees to buy him a bike helmet for Christmas. He tries to convince his dad that he needs the XR-7 for Christmas, but Mr. Taylor tells him it is just too expensive for their budget. When Dylan learns that the XR-7 is the grand prize of the Christmas yard decorating contest, he decides to enter.
As Dylan and Jessie set up a simple manger scene, Doug, the neighborhood bully next door sets up an extravaganza. Intimidated by Doug, Dylan, who was originally disgusted by the crass commercialism, tries to brighten up his display with lights and gadgets, creating a display to rival Doug's 2 T-Rexes and Elvis snow sculptures. Mr. Taylor tries to caution Doug, to no avail, and Dylan is so distracted by the contest that he lets Whit down by forgetting his Angel Tree gift, though he assures Whit that he will come through in the end.
The rivalry intensifies as the boys sabotage one another's displays, and comes to a crashing halt as a cat inadvertently causes the destruction of both displays, leaving only the simple manger scene they had begun with, just as the judges arrive. As Jessie sings "Silent Night," Dylan is reminded of the real meaning of Christmas. The grand prize is awarded to Jessie, who unselfishly gives it to Dylan. When he admits he doesn't deserve it, Jessie agrees, but reminds him that that is what Christmas is all about: God gave us the gift of His Son, even though we didn't deserve it. Dylan suddenly remembers his Angel Tree obligation and bikes over to Matt's house. He realizes that Matt is the little boy he pushed aside earlier and, having learned his lesson, not only gives him the bike helmet he asked for, but the XR-7 as well.