Arthur: D.W.s Blankie
Theatrical Release:
January 9, 1998
DVD Release:
January 9, 1998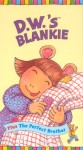 Synopsis
D.W.'s Blankie – D.W.'s security blanket is missing, so Arthur and D.W. look all over town for it. If they can't find it, D.W. will have to do the impossible – spend the night without her blankie!
The Perfect Brother – Having a friend like Brian spend the weekend sounded like a great idea! But Arthur finds it hard being around someone who's almost perfect – or at least seems to be.