Arthurs New Puppy
Theatrical Release:
May 23, 1998
DVD Release:
May 23, 1998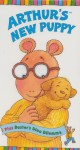 Synopsis
Arthur's New Puppy – Arthur's new puppy, Pal, is exactly what he wanted. He's cute and he follows Arthur everywhere. But training Pal is a lot harder than Arthur thought. Can he teach Pal to behave, or will he have to say good-bye to him forever?
Buster's Dino Dilemma –
Buster and Arthur are excited about the class fossil-hunting field trip. On his own, Buster discovers a very interesting bone. Is it the remains of a dinosaur, or someone's leftover dinner?