Arthurs Eyes
Theatrical Release:
June 19, 1997
DVD Release:
June 19, 1997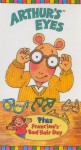 Synopsis
Arthur's Eyes – For some reason, Arthur isn't doing very well in school anymore. Maybe he just needs glasses. Problem is, he doesn't want to be seen wearing them. Don't look now, but it appears Arthur has started a trend!
Francine's Bad Hair Day –
It's school picture day, and Muffy has been working some magic on her best friend. Is that really Francine in a dress? Or is it some curly-haired look-alike?