Arthurs Computer Adventure
Theatrical Release:
April 13, 1999
DVD Release:
April 13, 1999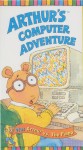 Synopsis
Arthur's Computer Adventure – Arthur always seems to wreck stuff, and this time it's mom's computer – not a great situation when your mom is an accountant and it's tax season. Now Arthur needs to fix the computer before mom finds out.
Arthur vs. the Piano – After getting stage fright during a rehearsal, Arthur is terrified of playing the piano in front of a real audience. Will he be able to get through his recital without any mistakes? Or should he just move far, far away?