Dangermouse: Lord of the Bungle
DVD Release:
August 29, 1990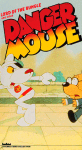 Synopsis
Lord of the Bungle Elephants are being kidnapped and turned into sugar cubes by the evil Baron Greenback, then exploded to their original size in the teacups of the world's leaders!
The Invasion of Colonel K Baron Greenback shrinks himself down to microscopic size and enters the brain of Colonel K to steal his valued secrets. Dangermouse follows him in-but can he prevent the Colonel from losing his mind?
Tower of Terror Dangermouse finds himself in Baron Greenback's Tower of Terror, a New York skyscraper, home to the Baron's corporation of crime.
Ice Station Camel The tyrannical toad Baron Greenback is bringing the world to its knees with his new Anti-Gravity Rotation Retarder. Can Dangermouse save the world on time?