Dangermouse: Trouble with Ghosts
Theatrical Release:
March 4, 1984
DVD Release:
March 4, 1984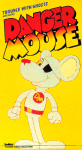 Synopsis
Custard – Baron Greenback, using dastardly secret weapons, is flooding the world with custard. Can Dangermouse save the day with the outer space Custard Mite of Glut?
Close Encounters of the Absurd Kind – Attempting to rescue the Big "E" Tracking Station from the clutches of Baron Greenback, our hero flies into the Bermuda Triangle and is captured by alien creatures!
The Bad Luck Eye of the Yellow God – When Baron Greenback steals a sacred emerald from Brazil, he creates a strange green ray that brings bad luck to all. Can Dangermouse find the emerald before his luck runs out?
Trouble with Ghosts – Dangermouse and Penfold are sent for a vacation in Transylvania – after all, they deserve it. But do they deserve the ghosts, bats, and wriggley things in their horror hotel?