Dangermouse: Public Enemy No.1
Theatrical Release:
May 17, 1984
DVD Release:
May 17, 1984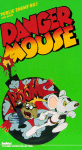 Synopsis
The Odd Ball Runaround Our heroes arrange to pick up some top secret plans hidden in a rugby ball, and are pursued by an evil-looking pack of forwards on the rugby field.
The Return of Count Duckula When the evil Baron Greenback brings the stage-struck Count Duckula to London, Dangermouse goes all out to save the cabinet form becoming a bunch of comedians.
Public Enemy No. 1 When Dangermouse loses his memory, he falls prey to the terrible Baron Greenback who persuades our hero that he is 'The White Shadow,' the second most dangerous criminal in the world. Will Dangermouse regain his memory, or lose his reputation?