Bloodhounds, Inc.: Invasion of the U.F.O.s
Theatrical Release:
May 25, 2000
DVD Release:
May 25, 2000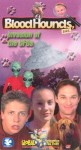 Synopsis
The town of Midvale is suddenly plagued by strange sightings in the night sky, alien abductions, even little glow-in-the-dark green men. The local vigilantes want to blast whoever or whatever it is that's out there. The new age gurus want to make contact to achieve greater self-harmony from within, and Sean and Melissa Hunter simply want to get to the bottom of it all to see what's really going on. Together with the help of J.E.R.E.M.I.A.H. and the wonder dog Slobs, they uncover a group of thieves whose agenda is just as scary and probably a little
more dangerous than any insignificant little old man, and wind up learning that sometimes by helping the least, you're doing the most.