Jay Jay the Jet Plane: Wing Wigglin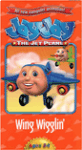 Synopsis
Wing Wigglin' – Warm up with Jay Jay as he learns that his morning wing wigglin' exercises are good for him, even though he looks silly.
Tracy's Song – Help Tracy honor her hero, Amelia Earhart, as she discovers that you don't have to use your voice to sing someone's praises.
Grumpy O'Malley – Watch as shy little Snuffy makes a new friend when he finds that he has something in common with a cousin called Grumpy.