Jay Jay the Jet Plane: Missing You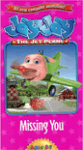 Synopsis
Jay Jay Earns His Wings – Come with Jay Jay to Sandy Landing where he misses a delivery deadline and later learns from Big Jake that making mistakes is just part of growing up.
Missing You – Help Snuffy cope with missing his pal, Big Jake, who's gone for a week but is never farther than a radio call away.
Tracy's Treasure Hunt – Join Tracy and Savannah on a treasure hunt where they discover that the greatest treasure of all is spending time with a friend.