Shane
Theatrical Release:
April 23, 1953
DVD Release:
August 15, 2000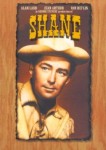 Synopsis
Acclaimed director George Stevens' legendary rendition of the quintessential Western myth earned six Academy Award® nominations and made Shane one of the classics of the American cinema. The story brings Alan Ladd a drifter and retired gunfighter to the assistance of a homestead family terrorized by a wealthy cattleman and his hired gun (Jack Palance). In fighting the last decisive battle Shane sees the end of his own way of life. Mysterious, moody and atmospheric, the film is enhanced by the intense performances of its splendid cast.
Dove Review
This film is considered a classic and deservedly so. Alan Ladd gives an excellent performance as the former gunfighter Shane, who might have to take up his gun again to protect some innocent people who are harassed by a man named Ryker. Ryker wants their land and ranches. The cinematography in this film is breathtaking.
Shane becomes friends with a man named Starrett and works for him. Starrett's young son Joey takes a liking to Shane and wants to be just like him. When Shane is forced into a fight in town, he practically takes on the entire saloon before his friend Starrett helps out. After this, a professional gunfighter named Wilson (Jack Palance) is called for by Ryker to stand up to the local homesteaders. It appears they will either have to leave their homes, or Shane will have to face Wilson to determine the outcome.
There are some fights and shooting in the film, but nothing so graphic that it prevents us from awarding this classic western our Dove "Family-Approved" Seal.
Info
Company:
Paramount Home Entertainment
Writer:
Jack Schaefer and A.B. Guthrie Jr. and Jack Sher
Reviewer:
Edwin L. Carpenter