Jason and the Argonauts
Network Premier:
May 7, 2000
DVD Release:
August 15, 2000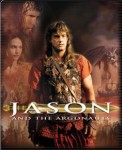 Synopsis
Inspired by the Greek myth, this made-for-TV movie begins with Jason returning to the kingdom of Thessaly to make his rightful claim to the throne. His uncle has murdered Jason's father, stolen the throne and forced the queen to become his wife. Threatening the life of Jason's mother, the evil king forces Jason to venture to the ends of the earth in search of the Golden Fleece, which he believes will give him immortality. Consulting Hera, the queen of gods, young Jason recruits the Argonauts to crew his ship, and they embark on their eventful journey.
Dove Review
Gods and goddesses are a theatrical device used to represent the forces that mankind encounters and battles throughout life. Keeping in mind that these mythological divinities are merely props used to dramatize man's struggle to control his own fate, viewing sword-and-sea-serpent movies can be lots of fun. Alas, the moody atmosphere of the British 1963 film version, with its eerie musical score by Bernard Herrmann and the unsurpased stop-action special effects by Ray Harrhausen, is missing in this new presentation.
We approve the film for 12+; however, for a more exciting version, try the video alternative "Jason and the Argonauts," (1963) with Todd Armstrong and Honor Blackman.
Info
Company:
Hallmark Home Entertainment
Industry Rating:
Not Rated
Reviewer:
Phil Boatwright