The Kid
Theatrical Release:
July 7, 2000
DVD Release:
January 23, 2001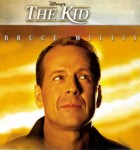 Synopsis
If you had a chance to meet yourself as an 8-year-old child, would that kid be happy with who you turned out to be? In Russ Duritz's case, the answer is a resounding "No!" Russ (Bruce Willis) somehow finds his life as a successful "image consultant" turned upside down when he magically meets Rusty (Spencer Breslin) – himself as an 8-year-old boy. Rusty is a sweet, but slightly geeky, pudgy little kid who is not at all happy with who he turns out to be – a 40-year-old "loser" without a wife or a dog. Ironically, the kid helps Russ to learn about himself and remember his dreams, in order to become the grown-up he wants to be.
Dove Review
One of the best episodes of TV's "Northern Exposure" had Maggie, the female lead, meeting herself as a teenager. I thought it was one of the most clever and original ideas to come to the "boob tube." Now, some ten years later, the same clever and original idea has come to the big screen. But we won't hold that against them. It is a very funny, touching film parents will enjoy with the little ones. Aided by witty dialogue, another supportive role by Bruce Willis, and without being too precocious, little Spencer Breslin steals nearly every scene.
Although Willis is the star, he is more than willing to bolster his fellow cast members. Indeed, he is one of the most giving straight men since Jerry's partner, Dean Martin. Willis sets up a gag, allowing his miniature costar the funny delivery. The "Moonlighting" star has picked a few stinkers over the years, but with his "Die Hard" films and the more recent "The Sixth Sense" and "The Whole Nine Yards" (we couldn't approve either of those two films, but they are examples of quality pictures with cleaver performances by the star) Willis reminds us that he is charismatic, entertaining, and talented. Mind you, this isn't the "Gone With the Wind" of comedies, but it does satisfy both little ones and parents alike. The key words here are clever, charming and funny.
Info
Reviewer:
Phil Boatwright