Woman Chaser
Theatrical Release:
July 21, 2000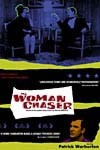 Synopsis
Richard Hudson comes to Hollywood with dreams of writing and directing a successful movie. On his way to achieving this goal, he does many not-so-nice things. He steals money from his work to use for making his movie. He sleeps with any woman he encounters, including his young stepsister who has no previous sexual experience. He even gets one woman pregnant and couldn't care less when she tells him about the baby. When he gets double-crossed by the Hollywood system, he burns down the studio he has been working with.
No, Hudson is indeed not the great moral hero one would hope for. He is never seen without a cigarette in his hand and a smirk on his face. He is selfish and egotistical. He does get thrown in jail at the end for his crimes, but we are not shown where he has learned from his mistakes. The story just ends there,
and he still has that smirk.
Dove Review
This is a typical quirky independent film. It is set in the 60's and shown in black and white. I think this makes it interesting visually. Except for some funny moments, the storyline isn't quite as interesting. The language is mild for a Hollywood film, until they feel the need to throw in the "F" word once and "G.D." three times. There is partial female nudity, a little violence, and a lot of sexual situations.
Info
Company:
Asylum Hill Productions, LLC
Reviewer:
Phil Boatwright