Wondrous Myths and Legends: Enchantment
Theatrical Release:
June 23, 2000
DVD Release:
June 23, 2000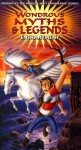 Synopsis
Time travel takes a very cool turn when teenage siblings Lisa and Nick discover the Cavern of Mythos, a portal that transports them across time and space – and plunges them into the cliff-hanger action and adventure of the world's most wondrous myths and legends!
Magic of Pegasus, the Winged Horse – Exploring the deepest regions of the Cavern of Mythos, Lisa and Nick are whisked back to ancient Greece, and into a thrilling quest to prevent the capture of the fabled magical horse, Pegasus!
The Riddle of the Sphinx – When a new-found passageway in the Cavern sends them back to the age of Pharaoh's Egypt, the kids must outwit a spellbinding Sphinx – by solving his mind-boggling riddle!