Wonderland
Theatrical Release:
July 28, 2000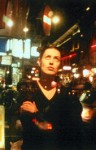 Synopsis
"Wonderland" is an intimate portrait of three generations of one family during a weekend in London. As boisterous "Bonfire Night" celebrations are held in the chilly November weather, the family members and those closest to them strive to find love and fulfillment in their day-to-day lives.
The mother and father are marooned in a loveless marriage, both hurt by the estrangement of their youngest child. The eldest daughter is a hard-partying hairdresser, separated from her ne'er-do-well husband while raising their son. Then there is Nadia, a lonely café waitress looking for love through the personals. And Molly, the youngest, in a committed relationship with her boyfriend, is expecting their first child imminently. Each is struggling with loneliness and a yearning to fill a void in their lives.
Dove Review
While the story deals with universal concerns – love, loss, mortality, parenting, and a yearning for contentment – it does so in a depressing and nonspiritual manner. These irreverent characters don't appear to be a family that owns a Bible, let alone reads one. Filmed with harsh, natural light, using a roving camera and visual trickery such as slow motion and sped-up photography, this grimy portrait of a blue-collar English clan is so rife with strife that I questioned why anyone would want to see it. "Wonderland" may appeal to those who receive pleasure from Jerry Springer-type outlandishness, where satisfaction is garnered by viewing lives more unsettled than their own. But those seeking Biblical solutions to family struggles may find this film unsatisfying.
Content Description
Language: Jesus 1, Christ 1, F-word 28, S-word 7 – Sex: three sexual situations, one with partial female nudity and one with a man performing oral sex on the woman; partial male nudity as a man gets out of bed and dresses – Sex Dialogue: several conversations concerning sex – Smoking: most of the leads smoke throughout – Drinking: many scenes feature drinking, some taking place in a bar – Drunkenness: one scene has a man inebriated – Violence: a kid watches a violent movie on TV; a dog is poisoned by a frustrated neighbor; a kid is mugged; a motorcycle accident, but the rider is not badly injured; a graphic childbirth.
Info
Company:
Universal Pictures
Reviewer:
Phil Boatwright