The Lost Treasure of Sawtooth Island
Theatrical Release:
August 7, 2000
DVD Release:
May 16, 2002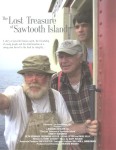 Synopsis
Somewhere on Sawtooth Island, a treasure waits. An orphaned boy takes to the high seas to clear his family's name and to find the fortune. But there are others who want it. The boy must deal with dangerous and greedy outlaws who are always just a step behind.
This is a story of powerful human spirit, the friendship of young people and the determination of a young man forced to the limit by integrity.