Cecil B. Demented
Theatrical Release:
August 11, 2000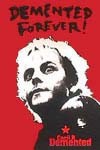 Synopsis
This satirical comedy goes behind the scenes with a group of obsessed cinema terrorists whose goal in life is to avenge the crass sins of commercial movie culture through acts of brazen filmmaking and vigilante outlaw cinema retribution.
As the movie begins, the title character (Stephen Dorff) and his "Sprocket Holes" gang kidnap Honey Whitlock (Melanie Griffith), a beloved Hollywood movie star. Once Whitlock is their prisoner, DeMented and his demented crew force Honey to star in their latest underground movie. The guerilla production team then wreaks havoc on the local film scene, especially the high-security set of a major big-budget sequel.
Dove Review
There was a time when John Waters was a lone wolf with his satirical and offensive scripts that skewered middle-class values. But today, he is just one of many filmmakers trying to out-crass and out-skewer one another. What made him a cult figure was his ability to shock the audience. In his "Pink Flamingos," he showed a person eating dog excrement. But Waters ceases to shock with his nauseating look at life. Like so many other comic filmmakers of today, his pictures merely attract those who crave humor from bodily functions.
Info
Company:
Artisan Entertainment
Reviewer:
Phil Boatwright