Beautiful
Theatrical Release:
September 29, 2000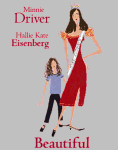 Synopsis
A young woman from a poor and unloving family aspires to become a beauty queen, and will do anything to realize her dream in this comedy/drama. Friends, relatives, and especially her little girl pay a price for her self-centeredness, until life (and the screenwriter) bring her face to face with her shortcomings.
Dove Review
Cattiness, self-absorption, bad family relations and sexual suggestiveness are the breeding grounds for humor and pathos in this wise but often gloomy film sharply directed by actress Sally Field. While it does not mock beauty contests, it does poke fun at those so absorbed in their life's dreams that they miss out on life. Unfortunately, the inclusion of several crudities, the comical implication that a stepfather attempted to molest his stepdaughter, and the peppering of offensive language make it impossible for Dove to approve this film for family viewing.
Content Description
Sex:
The lead has a child out of wedlock; a few sexual comments between beauty contestants; it is implied that a stepfather tried to molest his stepdaughter.
Drugs:
Minor characters smoke; some drinking by the lead character's parents, but it does not glorify the use of alcohol.
Info
Company:
Destination Films
Reviewer:
Phil Boatwright