Video Buddy: The Big Comfy Couch – My Best Friend
Theatrical Release:
October 4, 2000
DVD Release:
September 29, 2000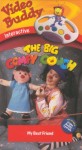 Synopsis
This acclaimed, award-winning live-action series of tales offers a safe, cozy place for pre-schoolers to explore and discover the world around them. Children will laugh, learn and grow with Loonette the clown, her best friend, Molly, and all of the other colorful characters in Clowntown. Interactive versions of this title are available to use with Video Buddy.
Discover fun ways to balance (on one foot, on a teeter-totter, and even on your head) as Loonette learns to balance her affection for both her best friend, Molly, and for her new pal, Babs LeBlanc.