Saltys Lighthouse: Lets Wing It and Taking My Turn
Theatrical Release:
October 4, 2000
DVD Release:
September 29, 2000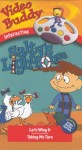 Synopsis
Imagination ahoy! Enter the fantasy world of 5-year-old Salty through these vividly animated stories. A host of delightful characters join Salty on lively nautical adventures that help children explore language and topics relevant to their pre-school years. This title is available in an interactive version to use with Video Buddy.
Let's Wing It – Even though Sadie the Seagull has a sprained wing, and Steamer Izzie needs repairs, they still find ways to be helpful and have lots of fun.
Taking My Turn – Great music and dancing mix with a heartwarming lesson about feeling left out, as our Lighthouse friends learn how to team up and have a Caribbean Calypso party.