Saltys Lighthouse: Who Took My Crayons and Guilty Gull
Theatrical Release:
October 4, 2000
DVD Release:
September 29, 2000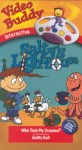 Synopsis
Imagination ahoy! Enter the fantasy world of 5-year-old Salty through these vividly animated stories. A host of delightful characters join Salty on lively nautical adventures that help children explore language and topics relevant to their pre-school years. This title is available in an interactive version to use with Video Buddy.
Who Took My Crayons? – When Salty loses his crayons, and Ten Cents loses his engine parts, the blaming begins. Once they realize the other tugboats and Lighthouse friends didn't take their missing things, they apologize. Luckily their friends forgive, forget and get on with a great day of play.
Guilty Gull – While painting masterpieces, the Lighthouse gang learns it's important to be careful too. Salty finds out he needs the facts before accusing Sophie of making a mess, and in the end everyone enjoys painting pictures together.