Video Buddy: Dino Babies – Dak and the Beanstalk and Robbing Hood
Theatrical Release:
October 4, 2000
DVD Release:
September 29, 2000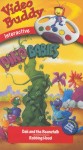 Synopsis
"Dino Babies" are the animated baby dinosaurs kids love. Their colorful adventures help kids learn important lessons about life while having fun. Interactive versions of select titles in this series are available for use with Video Buddy.
Dak and the Beanstalk – A sprouting seed is the inspiration of an adventurous Dinobaby and his friends, who climb a magical beanstalk into the clouds and have a "giant" experience.
Robbing Hood – Prepare for the fun escapades of a brave hero named Dino who, with the support of his band of friends, wins a great victory for villagers over the evil sheriff.