Video Buddy: Once Upon a Tree – What if the Dinosaurs Came Back?
Theatrical Release:
October 4, 2000
DVD Release:
September 29, 2000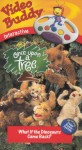 Synopsis
Set in a magical forest, "Once Upon a Tree" combines great stories, original music and important lessons about growing up. Children will enjoy the humorous animal characters along with the opportunity to observe and learn about nature. This title is available in an interactive version to use with Video Buddy.
Could there really be a dinosaur in the magical forest? Our animal friends get a big surprise and learn something about believing in one another too, when Dr. Dex brings a new animal for a visit.