Video Buddy: Once Upon a Tree – Cant Wait to Paint
Theatrical Release:
October 4, 2000
DVD Release:
September 29, 2000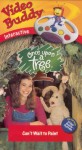 Synopsis
Set in a magical forest, "Once Upon a Tree" combines great stories, original music and important lessons about growing up. Children will enjoy the humorous animal characters along with the opportunity to observe and learn about nature. This title is available in an interactive version to use with Video Buddy.
It's hard to wait for something you really want to do. Our animal friends think up wacky ways to keep busy while they wait to paint pictures with Jenny. Before they can do one of their favorite fun-time activities, they learn a very important lesson about patience.