Video Buddy: Once Upon a Tree – The Carrot Caper
Theatrical Release:
October 4, 2000
DVD Release:
September 29, 2000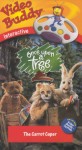 Synopsis
Set in a magical forest, "Once Upon a Tree" combines great stories, original music and important lessons about growing up. Children will enjoy the humorous animal characters along with the opportunity to observe and learn about nature. This title is available in an interactive version to use with Video Buddy.
Who stole the carrots from Jenny's vegetable garden? It wasn't who the animals thought! This charming and amusing tale covers important lessons like honesty and asking permission. After lots of fun, the caper in solved and more carrots are planted.