The Little Rascals: Volume 1
Theatrical Release:
October 6, 2000
DVD Release:
April 12, 2000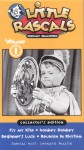 Synopsis
Fly My Kite – The gang loves Grandma, but her slimy son-in-law loves her money. When Dirty Dan tries to take her retirement fortune, it's the kids to the rescue!
Honkey Donkey – Spoiled rich kid Wally just wants to have fun, so he's invited the gang and their pet mule Algebra to his mansion. Now Wally – and especially his stuffy Barclay – are about to get some real kicks!
Beginner's Luck – Spanky's reciting Shakespeare in a talent show but he can't seem to get his lines out – because the gang's pelting him with pea-shooters!
Reunion in Rhythm – The grammar school is putting on a musical with all your favorite songs and stars!