The Little Rascals: Volume 2
Theatrical Release:
October 6, 2000
DVD Release:
March 14, 2000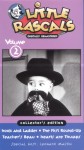 Synopsis
Hook and Ladder – No sooner does the gang start their own fire department, than they've got their own fire!
The First Round-Up – The gang decides to go camping and they've brought everything…except their courage!
Teacher's Beau – The gang's teacher, Miss Jones is leaving to get married…just when they were starting to like her. But Spanky and Alfafa have an idea to get Miss Jones "unhitched" so they cook up a plan for her going away party!
Hearts are Thumps – Spanky, Alfalfa and Buckwheat have a heartfelt reaction to Valentine's Day: they start the infamous "He-Man Women Haters Club" But when Alfalfa falls for Darla, Spanky bursts his freckled friend's bubble.