Left Behind: The Movie
Theatrical Release:
February 2, 2001
DVD Release:
November 1, 2000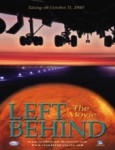 Synopsis
Based on the runaway best selling series of books by Jerry Jenkins and Tim LaHaye, "Left Behind" introduces us to several people abruptly facing an apocalyptic event referred to by religious theologians as the Rapture of the Church. The film's central characters, journalist Buck Williams (Kirk Cameron) and airline pilot Ray Steele (Brad Johnson), look for answers amid chaos and anarchy after millions of people around the globe suddenly vanish simultaneously in the twinkling of an eye.
Dove Review
"Left Behind: The Movie" has been bathed in prayer, before, during, and after its production. It contains two very important messages: God is ultimately in charge, and we must accept Jesus Christ as Savior.
The film's star, Kirk Cameron, formerly of television sitcoms, "Growing Pains" and "Kirk," still has a youthful appearance that reminds one of a student who's running late for his high school gym class. Brad Johnson lacks the charm and persuasive depth to meet the demands of his onscreen role. Chelsea Noble, Clarence Gilyard and Janaya Stephens fare much better, in spite of a few stilted scenes and occasional awkward dialogue. In the final analysis, the powerful story in "Left Behind" makes up for the film's minor flaws and does a great job of holding the viewers' attention – not to mention capturing their imaginations.
Content Description
Sex:
It is implied that one of the main characters has thought about committing adultery before his conversion.
Info
Company:
Cloud Ten Pictures
Reviewer:
Phil Boatwright