Legend Of Drunken Master
Theatrical Release:
October 20, 2000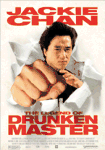 Synopsis
Wong Fei-hong (Jackie Chan) stars as the young master of the "drunken" fighting style in this "Eastern" comedy. When his luggage gets mixed up during a train trip, Chan finds himself at odds with evil foreigners trying to steal sacred imperial treasures.
Dove Review
Due to the amount of violence, the casual use of alcohol, and some suggestive sexual dialogue, I cannot recommed this action comedy for family viewing.
Content Description
Language: a couple of "Oh my Gods" but I didn't catch any harsh misuse of God's name; S-word 4 times; expletives, many – Sex: a couple of suggestive crude sexual remarks; a nude man is left hanging from a tree, but we do not see his private parts – Drinking: the lead drinks much and often is seen intoxicated – Violence: well-choreographed martial arts battles throughout; a shooting; a man gets a hatchet in the back; some blood.
Info
Reviewer:
Phil Boatwright