Little Vampire
Theatrical Release:
October 27, 2000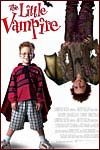 Synopsis
The new geeky kid on the block becomes friends with a mild-mannered vampire family. He aids them in locating a missing amulet that, when aligned with the moon and a rare comet, will turn them into mortals.
Dove Review
No other creature has appeared on film more than the vampire. The genre has attempted to satisfy the appetite of every race, sex and generation. Here, we have a temperate bunch of bloodsuckers aimed at winning over the under ten crowd. Kids may get a few laughs, especially at the sight of flying cows, and there are some positive messages, including the sanctity of the family and the importance of friendship, but overall it is a dark, dreary experience. The vampire hunter is a creepy ghoul, himself, and the vampires live off the blood of cattle, turning the bovines into flying zombies.
Content Description
Language: Oh my God 2 - Crudity: cow dung hits car windshield– Sex: a very mild suggestion that a married couple are going to have sex - Drinking: alcohol is served with dinner – Smoking: the vampire hunter smokes several times - Violence: Some mild action sequences; cows are bitten for nourishment and turned into flying vampire cattle - Occult: deals with magic and vampirism.
Info
Company:
New Line/Fine Line
Reviewer:
Phil Boatwright