The Little Rascals: Volume 6
Theatrical Release:
November 14, 2000
DVD Release:
December 15, 1994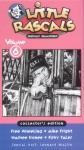 Synopsis
Free Wheeling – Rich-kid Dickie Moore has a stiff neck, but Dr. Stymie has a cure money can't buy: a wild ride in his custom made "taxi." Soon, the mule-drawn cab is careening out of control down the steepest hill in town. Look Out Below!
Mike Fright – Who's that rag-tag group driving everyone crazy at the radio station audition? Why it's the International Silver String Submarine Band!
Washee Ironee – The gang is in the middle of a muddy football game when white collar Waldo wants to play. But he's supposed to be playing the violin at his mother's society luncheon!
Fishy Tales – Alfalfa's done it again: he's made Butch the Bully see red. Spanky has a plan to save his skin…fake a broken shin bone.