The Little Rascals: Volume 8
Theatrical Release:
November 28, 2000
DVD Release:
July 24, 1994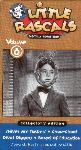 Synopsis
Shiver My Timbers – The gang is playing hooky again – how unusual. This time, they're down at the docks dreaming of life on the high seas. Their dreams come true!
Choo Choo – When Stymie, Wheezer, Brisbane and the gang trade places with a group of orphans on a train, it spells trouble for everyone on the track, especially the kids' guardian – the hopeless, hapless, helpless Mr. Henderson.
Divot Diggers – The gang is on the links – and on the brink of a riot. Above par gags are par for the course in this unforgettable round of chaos, calamity and confusion. Fore!
Bored of Education – As usual, Spanky and Alfalfa want no part of school. But when Miss Lawrence catches on to their fake toothache scheme, the boys get a nasty taste of their own medicine!