The Runaway
Network Premier:
December 10, 2000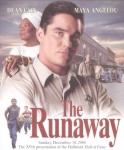 Synopsis
"The Runaway," a story of the enduring friendship of a black boy and a white boy in rural Georgia in the 1940s, becomes the 207th presentation of the Hallmark Hall of Fame when it premieres Sunday, 12/10/00, 9-11pm ET/PT on CBS.
Luke Winter (Cody Newton) and Sonny Monroe (Duane McLaughlin) are born at precisely the same time. The mysterious and powerful Conjure Woman (Maya Angelou) prophesizes at their birth that they will "make the change." Later she says, "You're going to make a difference." And they do.
Years later when Luke and Sonny set out, Huckleberry Finn-like, on a youthful adventure, they uncover a clue that eventually helps lead to the discovery of who killed three local black men. As Sheriff Frank Richards (Dean Cain) doggedly pursues the cases, he leans that most townspeople would rather the truth not be uncovered. But, as Sheriff Richards asks, "What kind of future can we have if we deny the past?"
Dove Review
A well-intentioned drama with a social theme, "The Runaway" is designed to show how some people in the 40s began to question the injustice of racism in the South. It is an effective detective story and contains a positive message. Although the use of the Conjure Woman seems to smack of humanism and the occult, the story does not focus on this prophetess. The film centers on the friendship of the two 12-year-old boys and a dedicated sheriff who stands up for his principles. It shows that often a person is not popular when he does the right thing.
Perhaps not the best Hallmark production I have ever seen, but it does entertain – and without any objectionable language or excessive violence. Although the villain threatens his wife and it is discovered that he has committed dastardly deeds, the content is not exploitive or excessive. And justice is served.
Info
Industry Rating:
Not Rated
Reviewer:
Phil Boatwright