Les Miserables
Network Premier:
January 7, 2001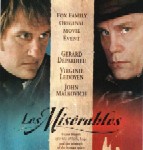 Synopsis
Fox Family Channel presents "Les Miserables," a four-hour adaptation of Victor Hugo's monumental tale of redemption, faith and the triumph of the human spirit. Set against the tumultuous backdrop of nineteenth century France, peasant Jean Valjean (Depardieu) has served an eighteen-year sentence for a petty crime. Finally released from prison, Valjean is quickly accused of stealing and is once again hounded by police inspector Javert (Malkovich).
A bitter man, filled with hate, Valjean is at war with the world until he is shown such kindness from a man of God that it alters his perception of who he is and what he must do in life. He becomes a caring, self-sacrificing friend of the people. But Javert finds Valjean's reformation inconceivable and is bent on returning him to prison.
Dove Review
With a respectful, if not completely faithful, adaptation of the classic 1862 novel, Fox Family Channel gives us their most ambitious production to date. Superb performances, stunning locals and impressive sets should keep viewers glued to their sets.
The novel contains one of the greatest messages ever placed on paper, that man can find redemption and that he can replace anger and fear with compassion and faith. The most powerful portion of the book is Jean Valjean's conversion once he senses the true understanding of God's mercy. Although this is portrayed in the TV-film, the book's details are far more moving, helping to set the stage for Valjean's desire to share the compassion he has discovered.
Unfortunately, this TV production treads lightly upon these spiritual waters. In the book, Valjean, after escaping his tormentors, desperate and nearly starving, prays for help. Not long after, his prayers are answered. Soon, he is welcomed into the home of the priest, who offers not only a hot meal and a bed for the night, but also an example of Christ's love. There is no prayer in this film version. Nor is much time granted to the priest so that we understand how deeply he feels Christ's empathy. Still, the film's themes of grace and sacrifice are unmistakable. While Javert lives a merciless life, unable to comprehend Christ's redemptive power, Valjean represents a life transformed by that loving power.
Info
Company:
Fox Family Channel
Industry Rating:
Not Rated
Reviewer:
Phil Boatwright