Pretender 2001
Network Premier:
January 22, 2001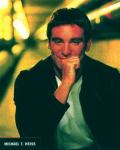 Synopsis
TNT presents this movie version of the TV series on Monday, 1/22/01 at 8:00 pm E/P.
Michael T. Weiss returns as Jarod, a virtuous genius whose exceptional intelligence allows him to master any profession. The first of two full-length movie versions of the popular series "The Pretender" has Jarod using this skill to help people who can't help themselves. On the run from agents of a clandestine research complex known as the Centre, the film picks up where the series left off, while also taking viewers back in time to see how Jarod originally escaped from the Centre.
The "Pretender 2001" original movie will set the stage for a follow-up original movie later in 2001. TNT airs episodes of "The Pretender" every weeknight at 7 pm E/P.
Dove Review
If, like me, you have not viewed the TV series, "Pretender 2001" may be difficult to follow. The journey begins with a narrator explaining the premise – that there are pretenders among us. They are geniuses with the ability to become anyone they want to be. The Centre exploits these people for their own research. After being raised by the Centre, Jarod, the most gifted pretender of them all, runs away. Backed by an annoying synthetic electronic beat, a loud, chaotic, explosive chase scene follows, setting the stage as Jarod searches for his true identity.
The occasional flashback is supposed to fill in the gaps, but they tend to raise more questions than answers. True, fans of the show might be a little more clued in, but a film must raise and answer its own questions. While aficionados may comprehend this muddled excursion, first-timers are apt to ask, "What the heck is going on?" But to keep your mind off pesky old questions like that, the producers toss in an explosion or chase scene, usually before going into frequent commercials. Who cares what's going on, so long as something blows up?
Quite honestly, the trip isn't worth it. The production has more style than substance. Much like the cable series "La Femme Nikita," it's moody, darkly lit, cynical and with an ever-present dour expression the limit to its tortured lead's visual vocabulary. We do approve of this TV film due to the message that hope prevails. But the message is all that's muted in this noisy nonsense.
Info
Company:
Turner Network Television
Industry Rating:
Not Rated
Reviewer:
Phil Boatwright