Warden
Theatrical Release:
January 14, 2001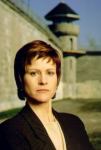 Synopsis
Ally Sheedy stars Helen Hewitt, a woman fighting to expose corruption in the penal system after she is appointed the first female warden at a maximum-security prison. But her jubilation at receiving the coveted promotion is short-lived. Hewitt arrives to find the prison in chaos, still reeling from a recent riot and murder. She takes charge, but her hardline stance with the inmates raises tensions at the prison.
Hewitt also faces unexpected obstacles, including a staff who doesn't think she is up to the job and superiors who don't want her to succeed. Not knowing whom to trust, Hewitt plows forward with the murder investigation. She risks her life and her career not only to uncover the murderer but also to expose a scandalous cover-up within the corrections system.
"The Warden" premieres on TNT, Sunday 1/14/01 at 9 p.m. (ET/PT).
Dove Review
Is there any way to show a film about prison life without some crude sexual comments, offensive language, or brutal violence? To present such subject matter realistically, probably not. But TNT's "The Warden" features most of that material outside the institution. It's the main character's private life that displays most of the film's crudeness. But then prison life is merely the setting for this TV film. The story is about a woman struggling to maintain a personal life while breaking through yet another male dominated institution. According to singer Peggy Lee, members of the female gender "can scoop up a great big dip of lard from the drippings can, throw it in the skillet, go out and do the shopping and be back before it melts in the pan." Well, there's no question that every woman can do that. It's just harder for some than others. As for Ally Sheedy's Helen Hewitt, well, it's not that easy to maintain motherhood, marriage and the wardenship of a prison on the brink of an uprising. While some actresses such as Elizabeth Taylor are able to shed the innocence of youth as they mature into more adult roles, I can't help but still picture Ally Sheedy as part of the Brat Pack. She's a solid actress, but could she govern the toughest prison in America? I'm not convinced. And when the lead character is the central focus of the story, she has to be believed. I didn't. There have been some important films that dealt with prison reform, most notably, Robert Redford's "Brubaker" and Tim Robbins' "Dead Man Walking," but "The Warden" prefers to solidify Helen Reddy's anthem, "I am woman, hear me roar." The point of this project is to say that job acceptance should be earned by merit, not by gender. Another actress might have given that argument more credence. Could a woman really run a maximum-security male prison? I don't see why not. Could an actress portray such a woman? Certainly. Meryl Streep. Yep. Barbara Stanwyck Yep. Ally Sheedy. Nope. Not even with the assistance of Molly Ringwald.
Info
Company:
Turner Network Television
Reviewer:
Phil Boatwright