The Princess and the Marine
Theatrical Release:
February 18, 2001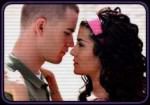 Synopsis
Based on the true love story between U.S. Marine Lance Corporal Jason Johnson and a Bahraini princess, Meriam Al-Khalifa, this moving two-hour original movie airs on NBC, Sunday, 2/18/01 (9-11 p.m. ET/PT).
Forbidden to even speak with a foreign male, let alone date one, 19-year-old Meriam Al-Khalifa, a member of the Bahraini royal family, sneaked out of her family's mansion to meet her beloved – a 25-year-old U.S. Marine. Johnson gave her a forged military I.D. and fake orders along with baggy men's clothing. She hid her long, dark hair under a New York Yankee baseball cap – and together the couple boarded a commercial flight to the United States.
The lovers, who had met nearly a year before at a Bahrain shopping mall and had exchanged hundreds of love letters and one kiss during their courtship, got as far as Chicago – where Al-Khalifa was taken into custody and forced to spend three days in jail. She was released after announcing her intention to seek asylum, and the couple quickly eloped to Las Vegas. For helping Al-Khalifa enter the country falsely, Johnson was court-martialed and demoted.
The modern day Romeo and Juliet – who have risked everything for love – prepare for Al-Khalifa's fifth INS asylum hearing this month and await their fate.
Dove Review
You know what I'm not seeing much of in theatrical movies? Character. But lately many TV films are coming to the rescue. NBC's "The Princess and the Marine" is an excellent example of storytelling that spotlights the good nature of a male. An American male, no less. Here, we see an honorable man, sincere in his faith (Mormon), patriotic towards his country, and compassionate towards others. The guy's a hero. And although he deceives the military in order to protect his beloved, it is made clear that he lives life by an honorable code and is responsible for his actions. As for young Al-Khalifa, she is aware that there is something worth risking security for, and that's love. Indeed, "The Princess and the Marine" is a very romantic adventure. And one that actually happened.
Info
Reviewer:
Phil Boatwright