Sanctuary
Network Premier:
February 28, 2001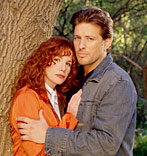 Synopsis
From the best-selling novel by Nora Roberts, "Sanctuary" is the story of a well-known photojournalist who, when stalked by an unknown assailant, returns to her childhood retreat to find safety and comfort, but instead discovers that her troubles have followed her home. The CBS original film premiers Wednesday, 2/28/01 (9-11 PM, ET/PT).
Dove Review
Those who have read the book may well be disappointed with this atypical mystery drama about a woman trying to come to grips with the memory of her mother abandoning her when she and her brother were children. Family tensions and a handsome new arrival at her family's island bed and breakfast take her mind off the stalker she left behind in New York – until it becomes obvious that the murderous creep has followed her home. Lots of changes occurred as this mystery transferred from novel to TV-movie, including one major character being written out altogether. I'm sure Ms. Roberts loved that. Ms. Gilbert gives her dependable if changeless performance. Like Valerie Bertinelli who also cranks out a once-a-year movie-of-the-week before returning to motherhood in wealthy seclusion, Gilbert doesn't give us much dimension, or for that matter, much charm. While she, like Valerie Bertinelli, showed promise as television child stars, neither has lived up to their potential. Somewhere along the line they became housewives to rock stars and motion picture actors, forsaking their calling. Nothing wrong with that, but why should we get excited about seeing them once a year, when they give us the same attitude and similar storyline each and every time out of the shoot? Unlike charismatic movie stars or the endless array of Carmen Electra's who depend on, shall we say, special endowments, this little lady from the prairie must not merely rely on her self-assurance to entertain us. She needs to give us an engaging characterization. Quite frankly, I haven't seen her do that sense her days with Michael Landon. The book was intriguing, the film and the performances are blah.
Content Description
Language: 2 SOBs, 1 Bitch, 11 expletives – Sex: 2 sexual situations, one fairly graphic for television, although no nudity – Violence: lots of family squabbling until they finally pull together; woman threatened by stalker; we learn that a missing woman was murdered; later we see her dead body floating in the lake; a madman kills hits someone with a hatchet; a tense climatic battle.
Info
Industry Rating:
Not Rated
Reviewer:
Phil Boatwright